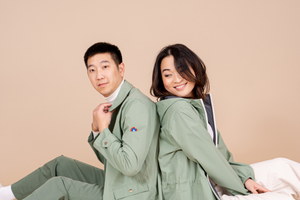 Hello to all !
I'm Lyly, co-founder of Flotte. Today I decided to tell you about the creation of the brand, our vision and our philosophy.
It all started in 2020 when we decided to embark on the adventure of entrepreneurship with Mickaël, my partner in life (my alter-ego and soulmate).
Our goal?
➡️ To make people love the rain by bringing joy and good mood.
How do you do it?
➡️ With modular and colorful clothes. Collections designed with 100% recycled and certified fabrics because we want to believe in a more responsible fashion.
A reality to change!
When we created Flotte, we had one ambition: to bring together the largest community of rain lovers, those for whom rain is life, because without it we would have no flowers, no fruit, no life!
Initially, we started with the observation that rain is often considered gloomy and depressing. We didn't think so ❌
Then, we wanted to revive all our childhood memories, to find the smile and the emotion that each one had when it jumped in the puddles. All these feelings that we forget too quickly when we become adults.
second challenge
sustainable fashion
Our credo is to reuse what exists to pollute less. 
So we imagined Flotte as a sustainable fashion brand that we wear with a smile and without deviating from its values. Our rainwear is made from recycled waste.
♻️ In 2022: 1,500,000 bottles were recycled into raincoats.
and that's not all...
Because there are very few countries where it never rains, we decided to add a pocket sewn in the back of our flagship model Amelot so that it can be transformed into a backpack in an instant. Thanks to this feature, rain is no longer an obstacle.
We imagined a colorama of 20 colors and 10 prints that recalls the diversity of colors of the rainbow, because it is well known: after the rain there is always good weather!
Since the creation of the brand, we have been able to develop new models, new new collectionsand new colors, so that you have even more choice and pleasure to love the rain 🌈
➡️ To learn more about the concept of Flotte.
To learn without getting wet