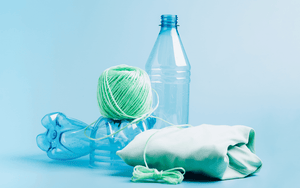 SUSTAINABLE FASHION AND LABELS
Protecting yourself from the rain is good, but doing it while preserving the planet is better.

At Flotte, we strive to source (research and select) environmentally friendly raw materials to manufacture our collections. It's all very well to say that, you may think. But how can we believe it? For this, the textile industry has developed several ethical and sustainable fashion labels that you can find on our labels.
The objective: to transform our household waste into a source of high value-added raw material.
Our materials
Quality, technique and eco-responsibility are the key words
At Flottethe selection of materials is at the heart of each development. The credo: use recycled materials to pollute less. 
Since the second collection, the brand has invested in this direction by creating a line with 100% recycled and certified fabrics. The desire to reuse what exists. The idea of a circular fashion will remain in the development of each of our collections.
Transportation
In order to limit CO2 emissions during transport, we prefer to ship our products by boat rather than by plane. We are also examining the possibility of using the railways, which would allow us to reduce CO2 emissions by 4 times compared to shipments by boat and by 20 times compared to airplane.
The production
The development of our pieces is done with care in our Parisian offices. A close-knit team of stylists, sales representatives and marketers work daily to create collections that are always more colorful and fun.
The manufacture of our parts requires a particular technicality and a know-how that cannot be found elsewhere. That is why we work with partners in Asia, because today it is in this region of the world that we find the most important means of production, and which meet our specifications.
The manufacturing is done in a factory specialized in the manufacture of outerwear, which is located in the Zhejiang region of China, where we control the production line. Our partner factory is BSCI certified, a label that guarantees healthy and fair working conditions.
Our fabrics are certified Oeko-tex Standard 100.
This is an international label that indicates that the textile does not contain substances harmful to humans and that the product is safe for human health.
Our fabrics are GRS (Global Recycled Standard) certified. The GRS label is an international standard that certifies the use of recycled materials in the product and includes criteria such as social and environmental treatment requirements as well as chemical restrictions.
The objective is to reduce the negative effects of production on people and the environment.
Provide assurance that products are processed in a more sustainable manner.
Increase the percentage of recycled content in products.
Our factory is BSCI amfori certified. An audit to verify compliance with :
- Working hours and fair compensation
- Health and safety at work
- Child labor and youth protection at work
- Forced/servile labor and precarious employment
- Freedom of association and collective bargaining rights
- Ethical business practices
- Discrimination
- Protection of the environment