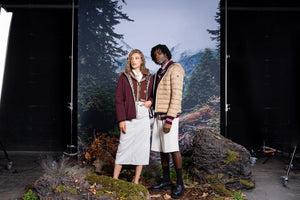 Down jacket Flotte
Ready for the cold with these essentials: discover the sleeveless down jacket and the reversible down jacket. Mixed collection, light and warm.
Reversible down jacket: Charonne
Change your mood and your style by opting for the smooth, waterproof side or the warm, quilted side. Reversible, waterproof and recycled, the Charonne down jacket features plant-derived down to keep you warm in style all season long.
Sleeveless down jacket: opera
Made from smooth, waterproof, 100% recycled and certified fabric, the Opera sleeveless down jacket features cruelty-free padding made from plant-based materials. Perfect for layering enthusiasts, it will slip perfectly over your favorite sweaters or under your best winter jackets.
To mix & match with a soft and colorful hat
Made of 100% natural wool and certified Woolmark, adopt the essential accessory
Flotte and you
They've adopted them, loved them... Because our community inspires us, share your best looks at Flotte !