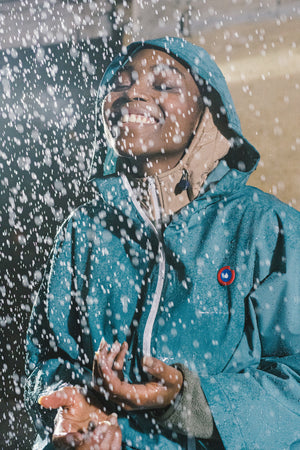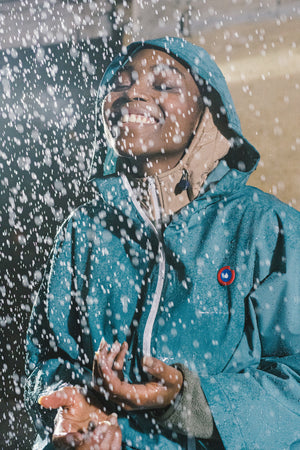 How to measure the waterproofness of a garment?
Have you ever found yourself in the rain for several hours? Luckily, you were wearing a raincoat! But how does it keep you dry? Today, the editors of Flotte decipher the secrets of waterproofing (or how to ensure quality protection!).
WATERPROOF, WATER-REPELLENT, WATERPROOF, WHAT'S THE DIFFERENCE?
To begin with, it is important to understand the nuance between these notions that are too often confused. 
A garment with a water-repellent fabric will act in such a way that the drops of water that fall on you simply slide on its surface. The goal is to avoid water absorption by the fabric and, in fine, to keep you as dry as possible.
Waterproofing works the same way, except that it also prevents water from being absorbed when there is stagnation or pressure on the fabric of your garment. This detail, which may seem trivial, is actually very important and should be taken into account when looking for clothing to protect you from water. Indeed, a water repellent will not keep you dry as long as a raincoat since, under too much pressure (that of the handles of a backpack for example), water is highly likely to seep under the fabric and thus, to get you wet ☔
Waterproof garments, on the other hand, are waterproof garments whose seams have been worked to keep the garment waterproof. The seams are thus heat-bonded or welded by ultrasound. So yes, waterproof means that water won't get in. But a waterproof garment will not let water vapors emitted by your body pass through either. So, it is very likely that you will be wet under your jacket because of your own perspiration (not rain).
HOW ARE CLOTHES WATERPROOFED?
There are two techniques for waterproofing fabrics:
ENDUCTION
A water repellent coating is applied to the inner surface of the garment. This material is useful because it effectively prevents water from penetrating the fabric, but also because it allows heat and water produced by the body to escape at the same time! 
While at first glance this may seem like a good solution, it is in fact only a temporary one. Jackets or other coated waterproof products will allow you to cope with a light rain. They can be used as a back-up in case of a surprise rainfall. But during heavy downpours, they will not be the products that will protect you the longest.
In principle and generally, the coating method is used when a "bonus" function is added to a garment that was originally intended for another function. A coat, for example, is meant to keep warm, but it can also be at least waterproof to be more useful to its owner, more "passe-partout".
THE MEMBRANE
It is a hydrophilic film that is also applied to the inside of the garment. In this way, the membrane prevents water from penetrating from the outside to the inside, but it also allows all the water vapor produced by the body to escape! For example, your Amelot raincoat will let water from all over the world run free!
The difference is that the membrane is more durable and breathable, as well as being waterproof. It will keep you dry much longer than with a simple coating, a method where the applied coating can degrade more quickly over time. You'll keep a membrane waterproofed garment longer in your life.
This technique is therefore the most effective, but it is also more expensive than the first.
WATERPROOFING TESTS AND SCHMERBER INDEX
Now that you know everything about waterproofing techniques, we'll explain how to test the waterproofing. Because yes, making a fabric waterproof is good, testing its efficiency and quality is better!
Again, there are several verification techniques. 
The first is the water column test. This test measures the resistance of the fabric under water pressure. Technically, how does it work? 
The waterproof fabric is simply placed under a column of water. The column fills up until the water penetrates the fabric. After that, we can measure the number of millimeters of water reached in the column at the time of the transpiercing of the fabric, and thus, give the result and thus, the index of impermeability. 
When we talk about this waterproof index, we say that the garment resists , for example, 2000 mm of water, which is equivalent to 2000 Schmerber.
The second test is the shower test 🚿 More effective than the first, it allows you to test the whole garment. Indeed, you will soon realize that if testing the fabric is useful and it gives a good indicator of the quality of waterproofing, on a jacket, there are also parts more exposed to water, more accessible and more sensitive: the zips for example. 
Therefore, testing the entire product as if it were under heavy rain is the ultimate test of its true water resistance. The result obtained will be the most reliable and closest to reality.
The process is quite simple, the garment is placed under a shower-like device, hence the name, and is sprayed with a large amount of water. This way, it is possible to see if water is seeping through not only the fabric, but also through the seams, zippers, and other sensitive areas.
Understanding the Schmerber Index
If the name of this index may seem complicated, it is simply that it is taken from the name of its inventor: Charles-Edouard Schmerber. 
1 mm of water = 1 Schmerber 1000 schmerber = it took 1 m of water in the column before it pierced the fabric
A garment with a water resistance of 10,000 mm can be considered to keep you dry for about an hour in a good rain or surprise shower. It will also keep you dry if a light rain persists all day for example.
On the other hand, in extreme conditions, subject to humidity and the presence of a lot of water(or if you plan to do Koh Lanta) prefer clothes and equipment much more technical, going to a resistance of at least 20 000 schmerber!  
Remember that waterproofing is subject to the conditions of life: pressure on a waterproof fabric can reduce its effectiveness! For example, just like the pressure of a bag handle on a waterproof jacket, the pressure of a support or an object placed on a tent also threatens its waterproofness. 
And yes! If you're an avid camper, you probably already know this, but tents have different degrees of water resistance on their floor and outer walls. The floor fabric needs to be more waterproof than the other edges because it is almost constantly under the pressure of a mattress. So, to make sure you keep your groundsheet dry, it's important to pay attention to these details as well when you go camping ⛺️
AT FLEET, OUR RECYCLED RAINCOATS ARE DESIGNED TO KEEP YOU DRY!
You have understood it well, there are multiple methods to waterproof your clothes, but also to test them. And if all of them work and have the merit to exist, some are more efficient than others! But at Flotte, what do we do?
> Our recycled and waterproof materials
We have been aiming to produce a more eco-responsible fashion since our beginning. So, if you know us, you probably know that the fabric of our raincoats is made of 100% recycled materials, including recycled plastic bottles, food packaging or used clothing ♻️
These are the main wastes that make up rPET, the material we turned to for the design of our raincoats. rPET is also known simply as recycled polyester.
Learn more about the rPET
Then, in order to waterproof our garments, we apply a membrane on the inner surface of our raincoats. We chose the membrane because it was more durable over time, it also promised greater efficiency against water and allowed your body to breathe more than with a simple coating. Of course, you're not immune to sweating a bit when wearing it for a long time and in heavy weather, but that's just being human! 💪
Our raincoats all have the same characteristics: 
- resistant to 10,000 mm of water
- breathable at 10 000 g/m²/24h
This makes them ideal for everyday use. In addition to being waterproof, our jackets are breathable. But what does that mean?
> The breathability of the clothes
In fact, the breathability of a garment is its ability to evacuate water vapor. Thanks to a good breathability, we avoid the storage of water vapor inside the jacket. This water vapor is normal and unavoidable, it is due to perspiration and the temperature difference between your body and the outside temperature. Good breathability is therefore the key to being comfortable in your waterproof jacket.
> Waterproofing tests
To ensure that water does not pass through our raincoats (in which case they would not 😅), we perform the two tests detailed above, namely: the water column test and the shower test. It is in a French laboratory, in Lyon, that these tests are conducted. Thus, we do our best to know the water resistance of our clothes through tests, both on the main fabric, and on the whole garment.
The water column test allows us, at first, to be sure of the waterproofness of our fabric. The shower test guarantees that the fabric is completely waterproof.
Plot twist : our raincoats are waterproof. They can withstand up to 10,000 mm of water pressure and are breathable, so you'll be ready for a shower or a whole day of light rain! So, if you're looking for the perfect companion for your adventures (daily or a little crazy), our colorful and recycled raincoats are made for you!


PS: After reading this article, you'll also be able to brag about knowing all about waterproofing 🌈
How to measure the waterproofness of a garment?
---