Freedom: the poncho
We've developed the perfect poncho for your walks and bike rides. Mixed, Waterproof, Breathable, Ultra-light.
5 good reasons to adopt it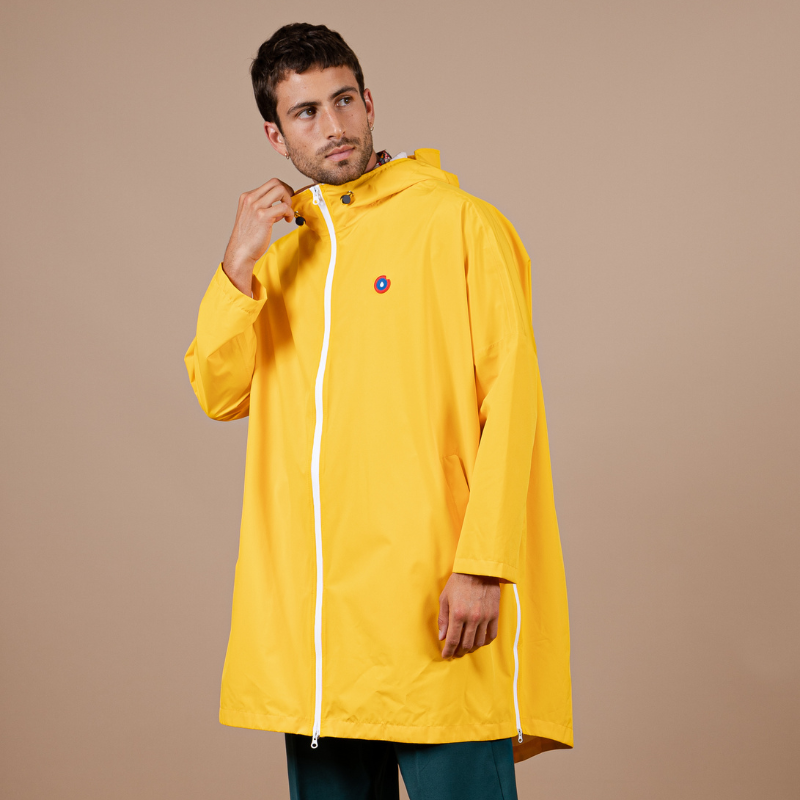 1. WATERPROOF AND RECYCLED
Brave the rain with complete peace of mind: our waterproof, breathable poncho withstands up to 10,000mm of water pressure. It features heat-bonded seams for optimum waterproofing. Eco-responsible, made from 100% recycled and certified fabrics, it takes the equivalent of 14 bottles of water to make our Liberté rain poncho.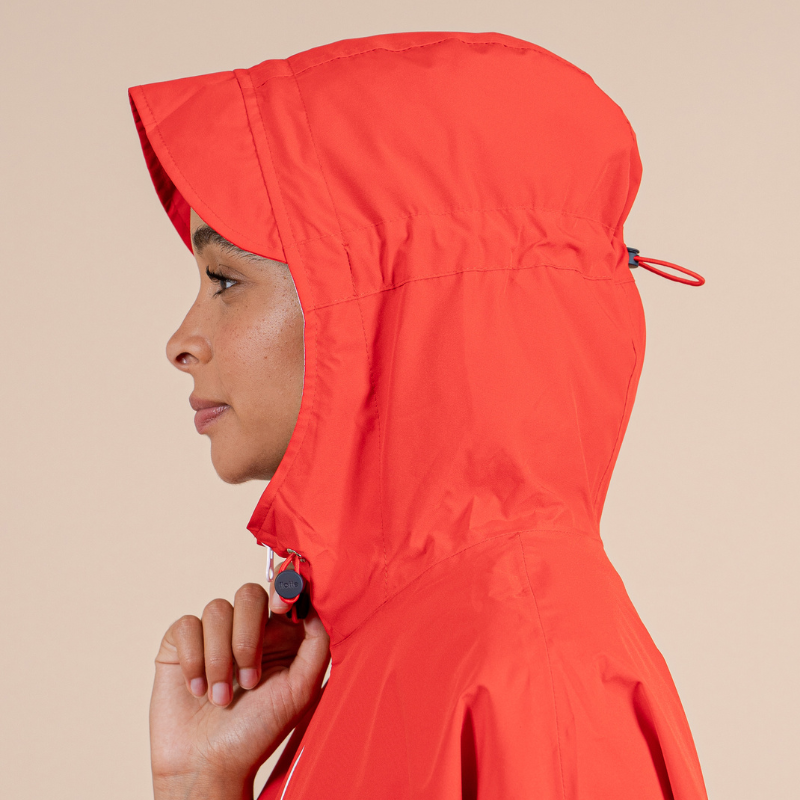 2. KEEP YOUR HEAD DRY
Our waterproof poncho features a visor hood that adjusts perfectly to your head. We know how much of a problem the hood can be on a bike or on foot, so we've added adjustment elastics on the collar and top of the head, so you can manage the length and width of your hood as you like.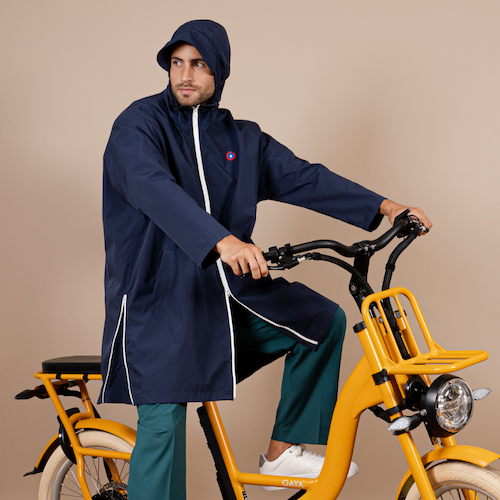 3. FREEDOM... AND LIGHTNESS
It lives up to its name and will delight all cyclists. Ultra-lightweight, our rain oncho offers great freedom of movement thanks to its wide shape and zipped side vents. Perfect for future bike rides, its double-zipper closure provides optimum comfort and ease of movement in all circumstances.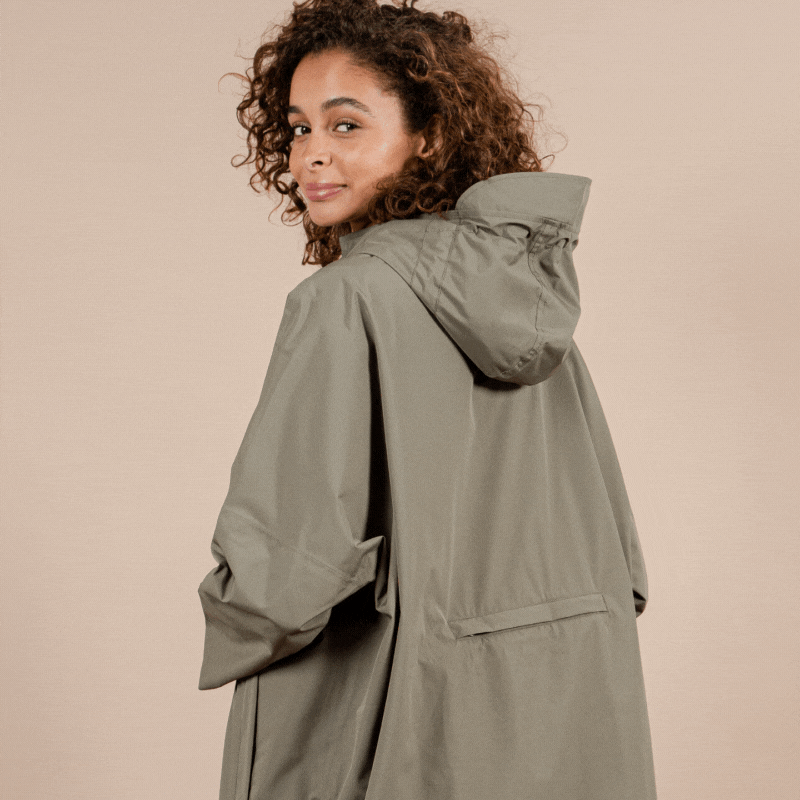 4. DAILY PRACTICE
Designed to follow you on all your adventures, our Liberté poncho has zipped pockets, so you can take your belongings with you and keep them dry. And when the rain stops? Turn it into a backpack in under 30 seconds, thanks to its integrated back pocket. No doubt about it, our modular poncho will be your best ally!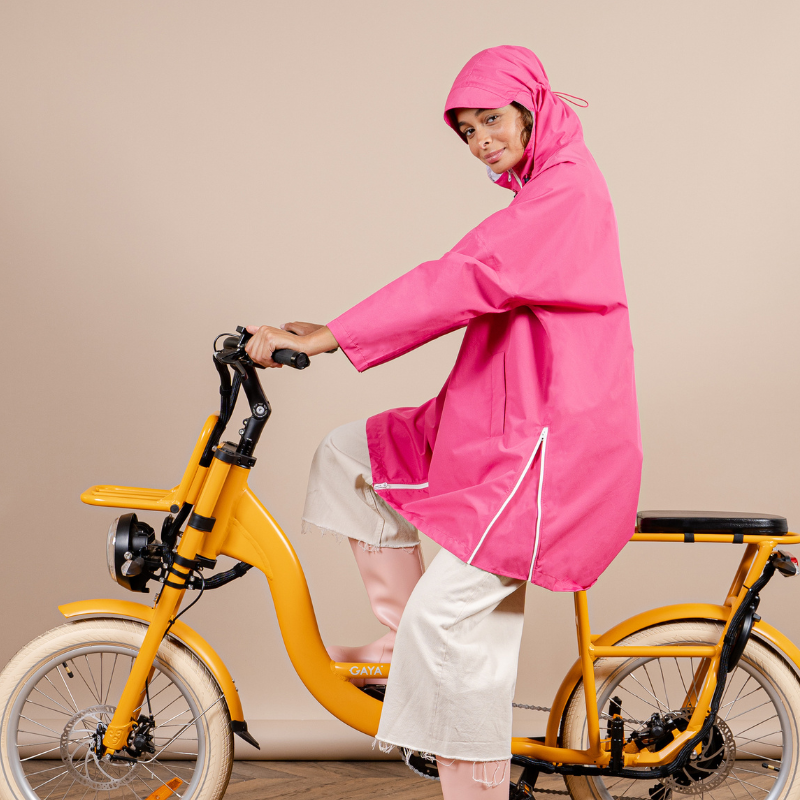 5. STYLISH IN THE RAIN
It's possible to stay stylish in the rain and on your bike. Our ultra-fashionable poncho features a timeless, on-trend cut. Designed to bring you joy and freedom, it comes in 5 iconic, vibrant colors. Whether worn alone or over a jacket, you'll love wearing it all year round.
Assert your style
Complete your look with our colorful accessories. Be perfectly equipped, whatever the conditions.
How to choose your poncho ?
Here are the top 5 criteria to consider when buying a poncho.

1. Waterproof fabric

The first and most obvious feature you'd expect from any decent raincoat is the use of a waterproof fabric - not just a water-repellent fabric/treatment. At Flotte, we use high quality waterproof fabric. Waterproof fabrics differ from water repellent fabrics - a waterproof fabric has been tested in a laboratory using the hydrostatic head or water column test, which estimates the height of the water column (measured in mm) that a fabric can hold before water begins to seep through it. Water repellent fabrics have a coating that repels water (you can see the water beading on your fabric), but this coating only lasts a few washes before it stops being effective and needs to be reapplied. In general, a fabric is considered waterproof if it can withstand a 3000mm leakage of water in the hydrostatic load test. Fabrics can increase their level of waterproofing up to 20,000 mm; however, some critics have stated that anything over 10,000 mm can then interfere with the breathability of the fabric. But more on that later... All Flotte coats are waterproof to at least 5,000mm, and go up to 10,000mm because we don't want breathability to be compromised.
2. Waterproof seams

You can have a great waterproof jacket up to 20,000mm, but it can still leak if the seams have not been heat sealed in some way. Seams are a weak area where water finds a way to seep in, leaving you wet even under a very high quality fabric. That's why it's crucial to heat seal all seams with a special waterproof tape, internally, after you sew them. If your raincoat is not completely waterproof, it is not completely waterproof and you risk getting wet through the seams in a heavy rainstorm. All Flotte waterproof coats, whether 2-layer or 3-layer membrane, are fully seam sealed, making them truly waterproof.
3. A good hood

So the skies are overcast and you've put on your raincoat - the next key element is a good hood to pull over your head. But what makes one hood better than another? During a storm, it's usually a little windy, yet you may need to run for cover or pedal your bike, so to keep the hood from flying off your head, it's essential to be able to adjust it. To keep the hood from flying off your head, it's essential to be able to adjust it. Tightening knobs that you can quickly pull to tighten the hood around your face is something you only think about when you're in a downpour! A small visor in the front is also a great feature because it protects your eyes and allows you to see ahead - have you ever tried running in the rain and wind? The visor can also help protect glasses or makeup from the rain! :) At Flotte, all of our hoods are adjustable and our rain cape has a visor, so you are well protected in case of a storm!
4. Breathability

You put on your hooded, seam-sealed raincoat and start walking fast or running to get to safety or home as fast as possible, but your raincoat is rubber or not breathable and now you're sweating and feeling like you're in your own sauna! Breathable fabric is another key element that many people forget. They know they need to protect themselves from the rain, but they forget that they also need to let out the water vapor and sweat we all produce! The breathability of a fabric indicates the ability of the fabric to absorb moisture and release it.
5. Length

The length of a raincoat or jacket is also something to consider, because where the raincoat covers, you'll be dry, but where it doesn't cover, you'll be wet! It's always good to have a little more length in the back, especially if you're bending over, working in the outdoors. A longer length provides better protection from the rain, but too much length can limit movement and be a tripping hazard. Again, this depends on how you will use your coat most of the time. The Flotte coats all have a longer back for better coverage and we also have different cuts depending on use and situations.