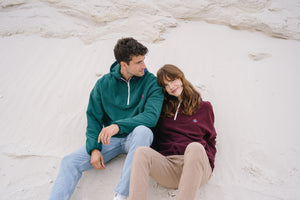 Belleville Fleece
The softest and warmest recycled fabric sweater to wear all season long.
Let the winter begin ❄️
Our recycled fleece sweater is warm, comfortable, trendy and colorful. Equipped with a waterproof hood, it will keep your head dry in case of little bad weather. 
Compose your cocooning trio
Perfect for your cozy evenings: a fleece sweater to curl up in, a plaid to wrap up in, an isothermal bottle to warm up.
Softly and gently
The 2-in-1 Cushion Throw
Our recycled fleece blanket is ideal for bundling up warm and can be stored in an instant as a pillow.
I discover
Warming up in style
The isothermal bottle
Say goodbye to plastic bottles and hello to stainless steel bottles! Waterproof and isothermal, our bottles keep drinks hot for 12 hours and cold for 24 hours.
I discover
To mix & match with a soft and colorful hat
Made of 100% natural wool and certified Woolmark, adopt the essential accessory