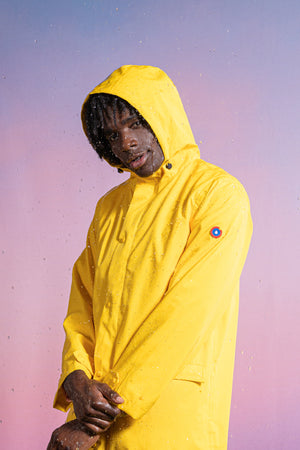 FlotteThis is a French brand whose mission is to make bad weather much more cheerful through eco-responsible, colorful and mixed rainwear.
That's us. But how do we remove the gloomy image of rain from people's eyes? How do we contribute to the development of a more eco-responsible fashion in the face of the rise of fast-fashion?
Make you love the rain
The founders, Lyly and Mickaël, created Flotte with a very specific mission: to make everyone love the rain. To do this, we create rainwear, windbreakers and colorful , modular accessories that are technical and functional and suitable for all body types. We design pieces for the whole family, products that are useful and that we want to keep and wear all year long, no matter the season.
Our goal is to make sure that all your Flotte pieces will be with you every day, in the sun or in the rain. For that, practicality is our keyword at the design stage. Our specialty: the raincoat that turns into a bag. 
We know how annoying it can be to carry around a raincoat when it's not raining anymore, we never know where to put it or how to fold it so that it takes up as little space as possible. So we added a practical and invisible bag in the back of our raincoats. Some of them can also be stored in a pocket, so it's up to you to choose the model that suits you best. 
With this feature, you can go out with your raincoat on your back, knowing that it won't bother you when the rain stops and the sun comes out.
Because we are convinced that big changes are made at the level of each individual.
Take part in an eco-responsible fashion
At Flotte, we believe that every action counts. After all, small streams make big rivers. Thus, at our level and with the possibilities that are offered to us, we participate as best we can to make fashion more responsible, more sustainable, and less polluting.
To do so, we imagine and create eco-designed clothes, essentially made of recycled materials. Our main fabric is recycled polyester, which is made from recycled plastic bottles, food packaging and used clothing. The fabric of our raincoats and clothing is therefore recycled and recyclable.
The more, the less
The higher the proportion of recycled polyester in the industry, the greater the virtuous effect on environmental protection and respect. Indeed, the increase in the proportion of rPET mechanically leads to a reduction in the consumption of new PET. This solution requires optimization of the entire chain, starting with waste sorting.
The long-term objective is to transform our household waste into a source of high value-added raw materials.
While creating eco-friendly clothing requires a significant financial investment in terms of research and development, at Flotte, we are proud to be committed to the environment and to offer sustainable collections at the right price.
Learn more about our commitments.