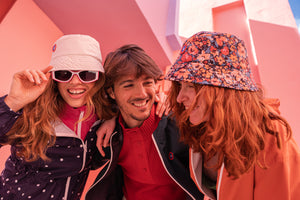 become an ambassador
of the brand Flotte
Want to be part of the Flotte family? Join our community of rainmakers by becoming an ambassador ☔
Our ambassadors represent our vision of the positive attitude. They believe, as we do, that it is possible to develop an eco-responsible, playful and colorful fashion. 
Joining our community of ambassadors means joining a community that shares its adventures and lives with passion. Rain lovers see life from the good side, rain does not mean "gloomy" but "happiness". It allows us to see life in a different light, and that's what we appreciate.
As a young brand, we're looking for content creators, artists, athletes and everyday adventurers...to join us in showcasing eco-friendly rainwear, people who care about the fashion industry's impact on the environment.
So, if you like Flotte, if you share our vision of life, and if you want to become an ambassador of the brand, you are in the right place!
What does it mean to be an ambassador Flotte?
- A personalized selection of - products offered
- A privileged access to our future collections
- A personalized promo code for your subscribers and a possibility to set up affiliate marketing (commission on sales)
- Regular content to publish on our social networks
- Exclusive invitations to events Flotte
- And most importantly: carry the message of the positive attitude 🌈
Requirements to become an ambassador: 
- Have an engaged community on Instagram, TikTok or other social networks ( min. 2000 followers)
- Have an editorial line and a personal branding that correspond to the brand's values